Flores National Park is located at the top of Mount Flores – Nusa Tenggara. This park is a national park consisting of six national parks in Bali and Nusa Tenggara. Although its small size does not mean it does not have extraordinary beauty. What's more, there is a 3-color lake in Flores National Park.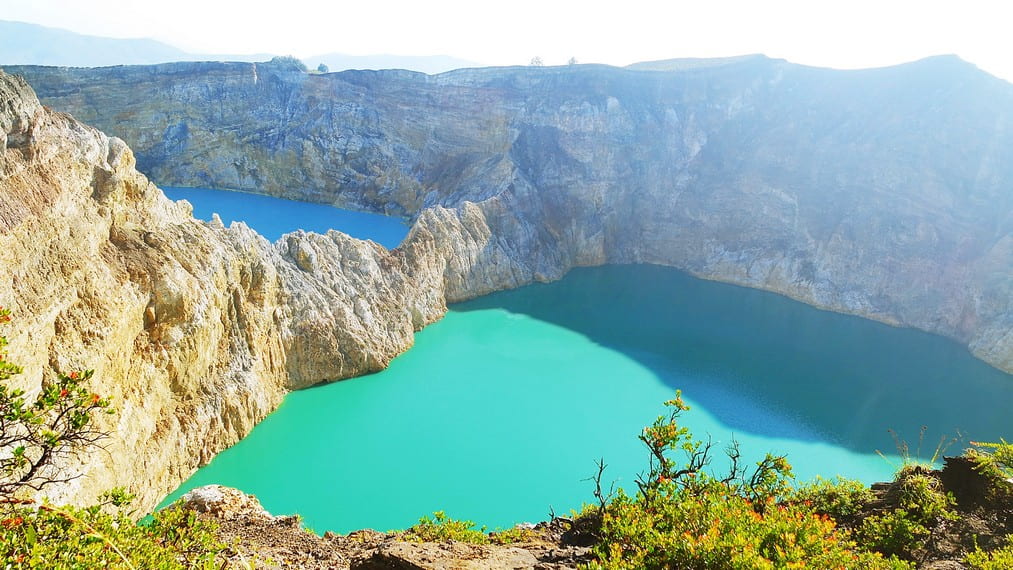 Anyone who goes to Flores will be very disadvantaged if they do not stop by the national park and Lake Kelimutu. Is a tourist place with extraordinary beauty. The road trip from Flores to the location is quite far but all will be paid for by the beauty that is presented.
Lake Kelimutu Attractions
1. Lake Kelimutu with 3 colors
Flores National Park is home to a 3-color lake located in Moni – Ende – Flores. The three lakes have a uniqueness that is from time to time the water can change color. Scientifically, the color of the lake changes due to changes in color by sunlight, air microorganisms and chemical dissolution.
This also includes reflections from the color of the walls and the bottom of the lake itself. In addition, changes also occur due to geological processes that occur under the surface. The first and second lakes are located next to each other. While within 1.5 km west of the second. The boundary between the lakes is a very steep stone wall with a height of 50-150 m.
See also: Traditional House of Minagkabau
2. A sanctuary for flora and fauna
You can find a variety of flora and fauna here. Here is the Arboretum. Arboretum is a collection of flora and fauna which has an area of ​​4.5 hectares.
The arboretum has several Flores endemic animals, such as the gerugiwa (Monarcha sp). The arboretum also has a variety of flora. Around 36 families with 100 species of flora are here. For example, turuwara (Rhondodenron renschianum) and uta onga (Begonia kelimutunesis) which are two types of endemic to Flores.
3. Kelimutu National Park
Kelimutu National Park has an attractive charm and always attracts tourists every year. The Kelimutu National Park has been internationally approved by the United Nations Environment Program and is also one of the areas supported throughout the world. None other than because Kelimutu is a cultural heritage that has unique features with high biodiversity.
The distinctive touch of the Kelimutu region is designed by a variety of hills and mountains. One of them is Mount Kelibara with its highest peak at 1,731 masl. Weaving, dancing, and traditional architecture are still very strong in the community around Kelimutu.
The typical family atmosphere and entertainment provided by the surrounding community by itself is able to attract the interest of tourists. The best time to visit the national park and Lake Kelimutu is the dry season in Indonesia, which is July and August. The atmosphere in this area is quite crowded. You can book a hotel as a resting place for two months before you take it.